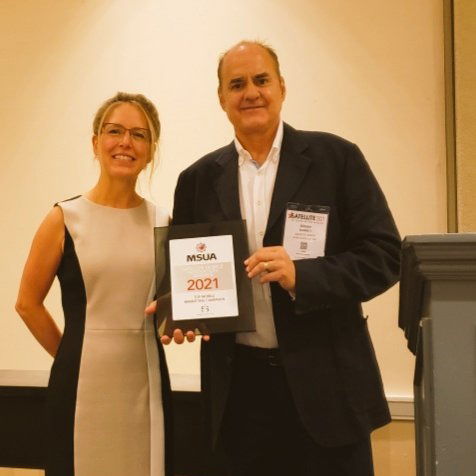 Solstar Space recognized at annual Mobile Satellite Users Association Satellite Mobile Innovation Awards for its tremendously successful 2021 crowdfunding campaign.


September 13, 2021 – NATIONAL HARBOR, MARYLAND | USA Solstar Space (Solstar), the company making persistent space-based communications accessible, today earned the Mobile Satellite Users Association's (MSUA) 2021 Top Mobile Marketing Campaign Award.
The company received the award in acknowledgement of its crowdfunding campaign that resulted in $1.1 million in an oversubscribed seed funding round to continue development of its space-based persistent communications solutions. The Top Mobile Marketing Campaign award was received by Solstar CEO and Founder, Brian Barnett, at the MSUA's annual Satellite Mobile Innovation Awards ceremony held during the SATELLITE 2021 conference.
"We are proud to be recognized once again by the MSUA with the Top Mobile Marketing Campaign award after earning the Chairman's Award for Outstanding Innovation in 2020. The consecutive awards demonstrate the importance of the work we are doing to keep humans, payloads, IoT sensors, and spacecraft connected in space and to ground operations," says M. Brian Barnett, Founder and CEO of Solstar Space.
"We are also excited to be a leader in the next generation of space companies partially funded by everyday investors that want to play a role in future space discovery and exploration. In addition, we recently opened a new crowdfunding testing the waters campaign on WeFunder. Investors interested in supporting our initiative can obtain more information on the Solstar Space WeFunder site, explains Barnett.