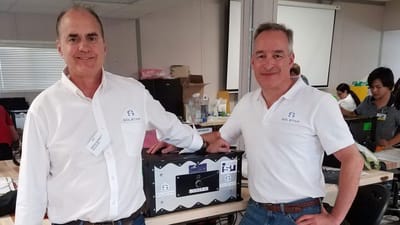 Like many people growing up in the 1960s and 1970s, Solstar's founders were captivated by NASA and the Apollo missions to the moon. We all wanted to be astronauts and all the kids in our neighborhoods did too, and we all thought we were going to be astronauts. We still plan on flying into space someday.
Solstar founder, M. Brian Barnett, and co-founders Dr. Mark Matossian and Michael Potter grew up in wide ranging places in the U.S.: Los Angeles, Oklahoma City, Colorado, Washington D.C. We all had the same interest in space exploration and this interest brought us together as graduate students at the International Space University.
Michael Potter worked as a space industry analyst in Washington D.C., then helped found and was President of a very successful telecommunications company. After selling that company, Michael began his film career and directed and produced an award-winning film about the space generation. called Orphans of Apollo.
Mark went on to achieve his PhD in aerospace engineering, specializing in satellite communications network designs. Then after working in the aerospace and satellite industry for a few years, he decided to move to Silicon Valley where he held leadership roles with multiple start-ups and worked at Google for more than a decade.
Brian was able to score his dream job at NASA where he managed scientific experiments on the Space Shuttle and Space Station and provided training to astronaut crews. After working at a major management consultancy specializing in space business and the commercial satellite industry, he started his first satellite communications company in 1999. He became one of the leading salesmen of satellite equipment and services in North America. He grew is first two companies into two of the fastest growing companies in New Mexico and he specialized in providing internet and phone service on corporate and government aircraft.
Around 2009, Brian and Mark started talking about using commercial communications satellites to provider internet and phone service on spacecraft, like they were doing already on aircraft. In 2013, they won a Space Act Agreement with NASA to test out their theory. In 2013, they proved their theory when they successfully sent the first text messages from an earth-based laptop in Albuquerque to their space communicator on-board a rocket speeding at 3000 miles per hour, 72 miles above Spaceport America in New Mexico.
Their technology was working so well, they decided to form a new company in 2017 called Solstar Space Company to commercialize this technology. In 2018, Solstar demonstrated the first commercial WiFi hotspot inside the crew capsule of Blue Origin's New Shephard spaceship. We took that opportunity to post the first Tweet from space that day too! That's when people started calling Solstar the world's first Internet Service Provider in space! Then, to show everyone we really knew what we were doing, we flew our Schmitt space communicator again on New Shepard. This time we had an internet connection to the spacecraft on the launchpad, on the way to space, in space, and all the way down!
The Smithsonian Air & Space Museum thinks our achievements are so historic, our Schmitt Space Communicator will on display for everyone to see in the new
Living in the Space Age
gallery (tentative opening in 2025).